---
Posted by David Adamson on
First there was White... then along came Almond and Black... but now there is a new trending color hitting the house scene in Kitchens, Bathrooms and more... and its GREY!  Introducing the NEW Power Perch Outlet Shelf:  Same GREYYYAT Features:• Easy to Install• Holds up to 10lbs!• Use existing outlet cover• Create a shelf in seconds! • Cord Management with discreet opening• Versatile• Made in USAShop Now! Or on Amazon! 
---
Posted by David Adamson on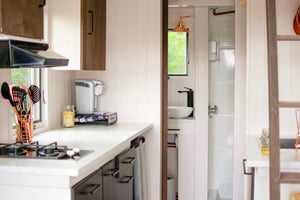 Down sizing and Up utilizing are on the rise across America! From HGTV having new Tiny Home shows to Instagram Influencers selling it all and opting in for the simple life -- one thing is certain if you decide to make this change: STORAGE!  Creative cabinets, hiding items under stairs, unique hangers, hooks, everything! Here are some things you may not even consider you need to 'hide' or 'store' when you're in your tiny humble home.  1. Fridge Storage Your fridge size just got cut in HALF maybe even a third! You make obvious room for your essential items: eggs,...